we are running a fusing class on4/2023 – 5/2
Introduction to glass fusing being offer through Monty Tech classes are to be held here @ Toy Town Stained Glass.  we will run it in theSpring 2023 .  Keep watching for updates or call us.
The cost is $225.00 + $75.00 (for supplies)  for the 4 weeks, glass, kiln and supplies are included in this cost.  *NOTE: the glass that you can use is based on $9.95 – 18.00 a square foot cost.  There is glass that does cost more and if you want to use glass costing more than you will have to pay the difference.  This will be due on the day that you use the glass.
1st week is only from 10am – 11:30am and you will learn to cut glass and use the strip cutter and square for cutting glass.
2nd class we will go over the basic fusing and slumping process which will include the heating segments, soaking segments, rapid cooling segments and annealing segment.  (I will email a pamphlet to each of you after the 1st class for you to review).  You will learn how to prepare the kiln, mixing kiln wash and applying kiln wash with a brush to the molds, fiber paper (protecting kiln shelf).  You'll go over and understand the glass compatibility of coefficient and expansion for common glasses.  You will learn how to keep a fire log.  Also you will make a one layer piece you could make a sushi dish, platter or plate you will learn to cut glass using a strip cutter and how to measure correctly for the glass to fit the molds.
3rd class:  You will examine your first piece seeing what happens.  Discusses with any questions you may have about the basic fusing and slumping process.  Then will move onto making a set of coaster's.  Depending on the time and your pattern you can do 2 or 4 coasters each being 4 x 4.  Each coaster will be two layers.  This will show you the difference between a one layer and a two layer.  You will design the coasters (using only glass), cutting out the glass, cleaning the glass and getting it ready for the kiln and then you will load the kiln.
4th class:  You will examine the coasters and will compare your first piece which is the one layer to the coaster's being two layers.  Then you will make a plaque 6 x 8.  Using clear glass for the background and your design you will use scrap glass, frit, noodles and stringers and vitragraph stringers.  You will learn the trick of applying the frit and also how to bend stringers using a candle.  If time allows we will also show you varies ways your piece can be display.
You will have to pick up your final pieces two weeks after the last class.
we are doing an ornament class ON HOLD FOR NOW:
We are offering fused Christmas ornaments class:   Clear circle base will be pre-cut for your decoration, make trees, using scrap glass and frits, stringers, noodles and pre made balls.
You can make 3 -4 depending on the time.
Come and have fun and be introduced to glass fusing.
Price  = $85.00 This includes all supplies , kiln and studio time.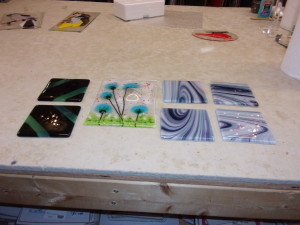 Photo Fusing Paper: NOT BEING OFFER AT THIS TIME:

Cost $85.00 if you need to slump your piece it will be an extra $10.00.   Turn your photos into fused works of art in this fun class.  Preserve your memories while creating a glass heirloom.  Learn how to work with the water slide photo fusing paper and create rich sepia toned decal.  We will then incorporate the decal into a fused glass design.   Students will complete a 12 x 12 or smaller wall hanging, plate or bowl or two 6 x 6's you can finish your piece off with scrap glass or frame it with glass.   You can make the plate or bowl which will need that extra kiln time.  Students are encouraged to email a week before class the photos ahead of class so I can prepare them before the class.  Glass cutting sills are recommended.
BY POPULAR DEMAND THE BIRDS WITH ATTITUDE CLASS: NOT offering this class at this time:

This is a two day class:   Cost to make 1 bird = $22.00 if you want to make an additional one the second one will cost only $18.00 more.   1 bird = $22.00 2 birds = $40.00.
1st class Feb 10th you will cut the glass for your bird, wings etc and put them into the kiln, twist the copper tin wire for your legs and pick out your feathers.
2nd class on March 3rd you will put the lead came around your bird, attached the twisted legs to the lead with solder and then dress it up with the feathers.    You will walk away after the second class with your birds with attitudes.
Texture Mold Class:Not being offer at this time:

  Cost of this class will be $75.00 all materials and kiln time included.    I have several texture molds:
I have 4 dragonflies, 3 dophins, 2 koi fish and then 1 of butterflies, sailboat, fern, cherry blossom and small peacock feather.    1st come 1st served.  Call to reserve the mold you would like to do.
Intermediate fusing students:    Vitragraph Class;  NOT BEING OFFER AT THIS TIME:
Cost of this class $135.00 this includes selected glass for your projects, stringers, kiln time and materils.    Learn to set up the kiln for vitragraph stringers.   Class offer on Saturday March 10, 17 & 24 10am -1pm.
You will be introduced to several techniques in fusing:  First thing we will be doing is using a vitragraph kiln to produce streaming hot glass into swirls of color and shapes.  Manipulate the molten glass as it flows out of the bottom of the kiln to create your designs.  You will be making a small saucer using your own design using the vitragraph stringers, scrap glass and noodles.   Second class we will do the vitragraph kiln again with a different color scheme and we will use the finished free formed stringers to help us create a totally unique bowl, plate or small platter.  You will learn kiln set up and if time permitted you could cut out for a sun catcher or ornament. Third class you will take your pieces out of the kiln, clean them and get them ready for another kiln firing (slump). Slump your items in the mold you've chosen.  Then you can do another vitragraph is you desire, finish your sun catchers or ornaments or finish your other pieces.   If you have time a second saucer could be made.  You will get a  12 x 12 clear sheet of glass depending on your projects you pick out you could make several small pieces using that 12 x 12 piece of glass.     Glass cutting skills are recommended.
We offer an ornament class in October and this is what they did.  Great Class:   We had 6 people in one class and 11 people in the other.   They all did a great job.      Call978-297-7102 or email [email protected] to join.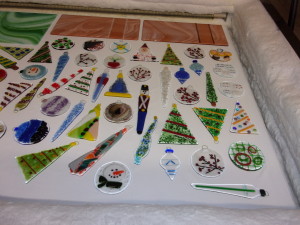 We also had an Introduction to Glass Fusing (warm glass):  We are offering this again in November starting on Nov 4th, 11th and 18th on Saturday from 9 – 12pm.
this was the class in November:
this is what the class did in October:    Great job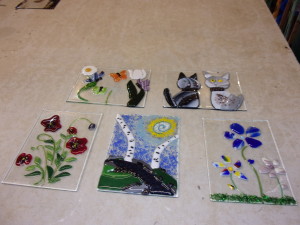 We are also offering Dichroic Jewelry Basic Beginning class on November 4th Saturday 1 -4pm.
Special classes being offered in September:   See new classes tab:
 New Texture Mold Classes: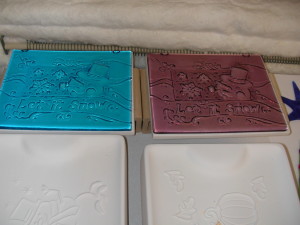 Instructors:  Patricia Allen, 14 years working with glass,  Debbie Paquin, owner, 15 years working with glass and Joe Moisan, graphic and multi – media artist.
Transfer Memories onto Glass Class,  Silhouette's pictures using glass frit and stencils and 5x interchangeable dichroic bracelet class.
For a limited time, Bring a friend and receive a $15.00 credit towards a future class or if you purchase over $40.00 you can apply the $15.00 towards that purchase.
Transfer Memories onto Glass Class:    Introductory cost:  $125.00 includes all supplies and glass. (Glass and mold restriction).
Requirements:   Please bring a note book.   Safety glasses are required.  You can purchase a pair  here for $4.00 + tax or you can
bring your own pair.    No hand lotion on your hands and No open toe shoes.
Platters and panels before firing.
This is set up to be display using a plate holder.                        These are framed in glass and have hooks ready for display.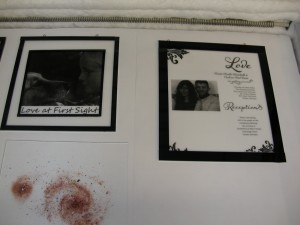 A wedding invitation transfer onto the glass and
glass framed.
Plates and platters after firing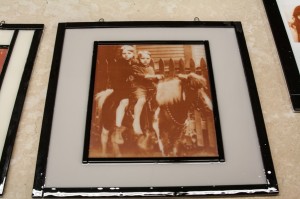 A vintage picture transfer onto the glass and glass framed.
Any photo's can be used.                                                                    Capture that special moment.
This is a recipe  –  transfer onto the glass and slump into a mold.                         We used a wedding invitation and photograph to create
this glass framed  picture.
Choose your font,   These can be slumped into platters or bowls or they can be glass framed.
This class is using your photograph which is adjusted in our computer using several behind the scene techniques to create a special transfer.  There are guidelines for your picture. *  You apply the transfer to the glass.  The completed glass transfer can be slump into a mold, or framed in glass, or displayed in a holder.  Before we print out your picture, you will need to know which option you are going to choose.
You will be using Spectrum '96 fusible glass.
We will fully explain firing schedules, annealing, thermal shock and devitrification.
You will receive your finished piece within two weeks after the class.  Slumping your piece could take an additional week.
(Unless any of these are for gifts and need to be done by a special date, just let us know ahead of time).
*we will need your photograph one week before your class so we can have the transfer ready for you.  At this time we will require a deposit = $60.00 non refundable once the transfer is made.  If you are providing a digital photograph it must be the original photo. The photo must NOT be cropped or altered this may interfere with our process.  This can be email to us using [email protected].  If the source photograph is a print you may either scan the photograph at 600-1200DPI or you may drop off the print and we will complete the scan process for you.  (you could mail these photographs to us also @ 36 Monomonac Rd West,  Winchendon, Ma.  01475).
Photo's may be cropped to fit the project aspect ratio.  Please provide us with contact information including email address so we can contact you regarding any changes or alterations to the photo for your approval before we finalize the transfer.
Silhouette's pictures using glass frit and stencils.
Requirement: The picture you want to create (we suggest that you bring at least three simple pictures).  *Silhouettes pictures work well.   Bring a note book,   Safety glasses are required.  You can purchase a pair  here for $4.00 + tax or  bring your own pair.  Dust masks are included in your supplies.   No hand lotion on your hands and No open toe shoes.
The painterly use of crushed glass frits and powders has opened up a whole new world of artistic imagery.  Anything is possible when working with small particles of glass.
Before Firing in the kiln: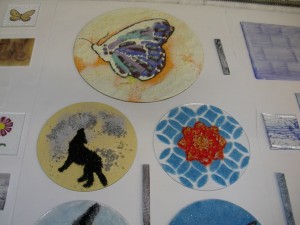 After firing
Glass Frit COE 90
Introductory Cost $100.00 for the class and $25.00 for the materials using 90 Coe Frit (glass powders, fine, medium, and coarse frit).  This is for one 7 1/2 round clear circle, materials to make your stencils, covers the studio, tools required and other supplies needed.
This is a one day class but you'll pick up your projects one week after the class.  These items go into the kiln and need this time for the full process.  Please let us know if you need them sooner.
This class will get your creative juices flowing and will be a jumping off point for bigger and better works of art.
Objective:  In this class you will learn about the different COE's of glass, cut a stencil, apply and adhere frit in multi layers to create an image, learn safety with working with glass frit,  and learn the basic color theory and the difference between opal and transparent glass and how it affects your project.  You will also learn about kiln schedules and what is happening in each process.  This is a full fuse project but we will go over the different firing schedules.  You'll be introduced to different tools and techniques to create and achieve the desire images.  (Your personnel masterpiece).
5 X interchangeable Dichroic Bracelet Class:
Requirement: Please bring a note book.   Safety glasses are required.  You can purchase a pair  here for $4.00 + tax or you can
bring your own pair.  No hand lotion on your hands and No open toe shoes.
Cost: $60.00 for this class and $25.00 for the materials (using Dichroic Glass).  This covers the studio, cutting tools, other supplies needed and cold working if needed.
This is a two day class:  Maybe another day if cold working is required.
Hours 2 to 2 1/2 hours the first day.  and then about 1 to 1 1/2 the second day.
Objective:  In this class you will learn how to make fused, dichroic jewelry pieces that will fit over snaps.  This will consist of choosing your glass, cutting the dichroic glass, stacking the pieces, firing them in the kiln and then attaching the pieces to the snaps.  You will learn about the different COE in glass, the kiln schedule and what is happening in each process and assembling the bracelet.
One the first day you pick out your glass, cut it or select from already precut pieces, you will learn the process of stacking them and kiln placement.  We will go over the different COE in glass and firing schedules.  We will demonstrate in the smaller kiln what is going on in the larger kiln.  You will learn how to prepare the kiln for the items.  We will explain what cold working is about and show you examples.
The pieces take several hours before you can remove them from the kiln, that is why this is a two day class.
You will fill the chart position with you name.
On the second day you will remove and wash your pieces learn the process on how to attach the glass to the snaps.  These pieces will have to wait 24 hours before wearing them.  If cold working is required you will need to do the process for this and these items will have to go back in the kiln for a second firing.  Not all pieces will require cold working.  Second firing will be reay to assemble within a week.
You will walk away with a bracelet having one of your pieces on it and then four interchangeable other pieces so you may change the look.
On the day of pickup we would like to take pictures and add them to our webpage.