Class Times & Cost For making Stained Glass Panels:
The Classes offer in  2023:
We are teaching Stained Glass:
Days and hours that are available:
Sunday 10 – 12:30pm
Monday Nights: 6 – 8:30pm and
Tuesday and Friday Morning: 9 – 11:30am.
Requirements:   No open toe shoes.   This is for all beginners with no previous experience.
Class times are morning and evening.
The classes are 2.5 hours each, cost $40.00 each session which includes all materials and tools. You will need to purchase your glass.  This is for your first project.   For Beginners there will be a $100.00 deposit which will go towards your last two classes and your glass.   If the glass you pick out is more than $15.00 then you will need to pay for the difference.
You will need a pair of safety glasses which you can bring or purchase here for $4.00 + tax.
Sunday's 10 – 12:30, Tuesday and Friday Mornings 9 – 11:30 and Monday  nights 6 – 8:30pm. If these times are not convenient for you please contact us and we can see what we can do for you.      We are willing to work with you.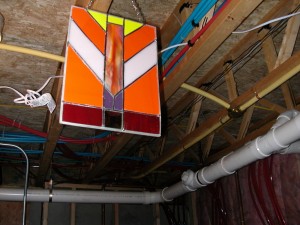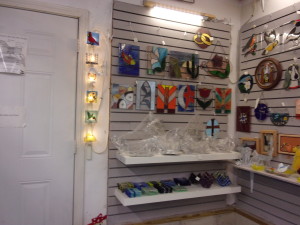 Morning
9am to 11:30am
Evening
6pm to 8:30pm
You can expect to learn how to: cut glass, straight, inside and outside cuts.  Use different cutters, foil, grind, solder and to frame and clean your piece.   You will learn how to use the tools.   After you finish one piece you will be able to do it on your own.   How long will it take you depends on you.   The average has been  6 to 8 weeks using a 15 pcs project.   But you learn a lot in this time.  I've just introduced a 10 piece project but I have no feedback on these projects yet.      After you finish your piece you can continue to come here renting the studio.  For any additional projects you do you will have to paid for the supplies, glass and studio time but I've extend the studio to you for two session each for 2 and 1/2 hours but you only paid for one.   The two session must take place within the same week.