Dichroic Advance Jewelry Class: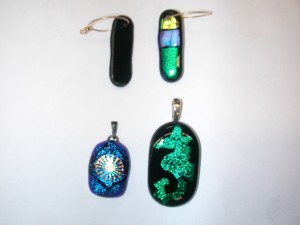 You will make two pendants and a pair of earrings.
Prerequisite:  Have taken the basic Dichroic Jewelry Class.
You can cut or select from pre – cut glass pieces.
Requirements:  Please bring a notebook and take notes.  Safety glasses are required.  You can purchase a pair here for $4.00 + sales tax or you can bring your own pair.   NO OPEN TOE SHOES.
This is a two day class:
Time for the first day: two to three hours.
Time for the second day: one and a half to two hours.
Cost: $85.00 includes all the glass, supplies and tools needed for the class.
You will receive four pieces of Dichroic Jewelry:  Two pendants and a pair of earrings.
Day one:  You will learn to etch a design on your piece.  You will learn how to install a bail in between the glass.  We will explain the procedures for both of these techniques.  We will go over the different COE's of glass and what is happening in the kiln.
Day Two:  You will remove and wash your items from the kiln.   On this day you will learn how to drill a hole in your piece and you will attach the bails to your pieces.
we added on a mini class for vitragraph.   We had a wonderful time.  Everyone was very pleased;
Students made a platter, saucer, ornament and a bird.    We made blue and red stringers using the vitragraph kiln.
Cost was $135.00.       Coming again in 2017.