Dichroic Jewelry Basic Beginning Class:
You will make two pendants and a pair of earring using pre – cut glass.
No Prerequisite required:
Requirements:   Please bring a note book.   Safety glasses are required.  You can purchase a pair  here for $4.00 + tax or you can
bring your own pair.   No open toe shoes.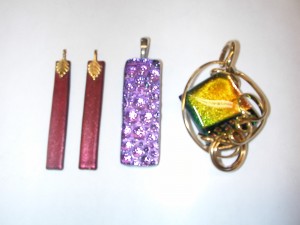 This is a two day class:
Time for the first day:  two to three hours
Time for the second day: approx. two hours
Cost $85.00 includes the glass, supplies and tools.
One pendant will be made with three pieces of glass with a glue on bail, the second pendant will be made also with three pieces glass and you will learn to wire wrap. The pair of earrings will also be made out of three pieces of glass using glue on bails.
On the first day you will be shown how to cut your glass,  how to clean and stack them to get them ready for the kiln.  You will learn about the different COE of glass, how dichroic and iridescent is to be used.  You will learn about the firing schedules.  We will demonstrate and explain each process.
On the Second day you will clean your fired pieces.  On one piece you will use the wet grinder to make a grove (using a jewelry bit) so that the wire wrap will fit in the grove.  You will learn to wrap one of your pieces and the other three pieces you will learn the way to attach and glue on the bails.
After this class you will receive a pair of earrings and two pendants.  The glue on bails will have to set for 24 hours before wearing them.