NEW Class:  INTRODUCTION TO GLASS FUSING (warm GLASS) STARTING November 4, 11 & 18  9am – 12pm    Please contact me if interested by phone 978-297-7102 and/or email tacachance@comcast.net.   We will Need at least 6 people interested in the class before running this.
We are offering an introduction class to fusing this fall: This class will run for 3weeks hours are going to from 9am to 12pm on November 4th, 11 and 18th 2017   The  cost will be $150.00. All glass, studio time, supplies and kiln time are included in the cost. * NOTE: The glass that you can use is based on $7.50 – $11.00 a sq ft cost. There is that does cost more and if you want to use glass costing more than the $11.00 a sq ft you will have to pay the difference. This will be due on the day that you use the glass.
Here is what you will learn:
1st class we will go over the basic fusing and slumping process which will included the heating segments, soaking segments, rapid cooling segments and annealing segment. (I will email a pamphlet to each of you after the 1st class for you to review). We will learn how to prepare the kiln, mixing kiln wash and applying kiln wash with a brush to the molds, fiber paper (protecting kiln shelf). Glass compatibility and understanding the glass compatibility. Coefficient of expansion for common glasses. How to keep a fire log.
1st class is the introduction for a one layer piece you could make a votive or plate you will learn to cut glass using a strip cutter and how to measure correctly for the glass to fit the molds.
** If you have never cut glass you must come prior to this class to learn how to use a glass cutter and how to use the other tools for cutting glass, this class will take about 30 minutes to 45 minutes. The cost will be an extra $20.00 for this introduction.
2nd class you will examine your first piece seeing what happen. Discusses with any questions you may have about the basic fusing and slumping process.    Then will move onto making a set of coaster's. Depending on the time either you can do 2 or 4 coasters each being 4 x 4. Each coaster will be two layers. This will show you the difference between a one layer and a two layer. You will design the coasters (using only glass), cutting out the glass, cleaning the glass (getting it ready for the kiln) and then loading the kiln.
3rd class you will examine the coasters for defects and will compare your first piece which is the one layer to the coaster's being a two layer. Then you will make a plaque 6 by 8. You will design your plaque using a clear piece for your background 6 x 8. You will use scrap glass for your design also using frit (powder, fine, medium or coarse) glass also noodles and stringers. You will learn the tricks of applying the frit and also how to bend stringers using a candle. If time allows we will also show you varies ways your piece can be display.
You will have to pick up your final piece in two weeks after the last class.
Another Class:   Fused Christmas Ornaments Class:
Offer on Thursday November 9th  night 6pm – 9pm or Saturday Afternoon November 11th 1pm- 4pm.
Clear circle base will be pre-cut for your decoration, make trees, angel, bells (your own idea).  This will be done by using scrap glass and frits, stringers, noodles and pre made balls.
You can make 3 – 4 depending on time.
Come and have fun and be introduced to glass fusing.
Price $65.00 This includes all supplies, kiln and studio time.
Dichroic Jewelry Basic Beginning Class:
Offering on November 4th Saturday 1pm – 4pm and/or Thursday November 9th 10am – 1pm
We need at least four people to register in order to run this class but more are welcome.
You will make two pendants and a pair of earrings using pre – cut glass:
No prerequisite required:
Requirements:  Please bring a note book and take notes.   Safety glasses are required.  You can purchase of pair here for $4.00 + sales tax or you can bring your own pair.  NO OPEN TOE SHOES.
This is a one day class for three hours:
Cost: $85.00 includes the dichroic glass, sterling silver findings, supplies, studio time and kiln time.
You will make two pendants and a pair of earrings:
You will be shown how to cut glass for jewelry and how to stack and get them ready for the kiln.
You will return to pick up your fused pieces these will not be ready on the same day.
You will learn the secret of inserting a bail instead of gluing.
You will learn about the different COE of glass,   how dichroic and iridescent is to be used, you will learn about firing schedules.  We will demonstrate and explain each process.
After this class you will receive a pair of earrings and two pendants.
Sign up by emailing tacachance@comcast.net or call 978-297-7102
Stained glass lesson are always on going.   The classes for November are Sunday's open slots for 2.5 hours starting @ 10am, Monday and Friday nights 6 – 9pm and Tuesday and Friday morning 9 -11:30am.  Days and times do change so if interested please contact me and I'll let you know what days and times I have going on.   If the days and time doesn't work for you I may be able to set up another day or time.   Email tacachance@comcast.net or call 978-297-7102.
Introducing a new Stained glass Class;
Designing a frame around a beautiful artist painted enamel trim w/22k gold insert.
Cost of this class is $75.00 which will include basic materials and use of the tools.  You will also have to buy your glass which varies in price and the insert ranging from $16  – $20.00.
There is a limited quantity of these painted enamel inserts. Once they are gone I can't get anymore.
This class will take approximately 6 to 8 hours to make depending on your skills and the frame you choose to design.
You will learn to design your frame.  You will be responsible for the design and the measurements.
You will taught to cut your glass, foil your pieces, square up your project, solder all the pieces together, choose the came to frame your project, apply hoops and chain to hang your piece and finally clean and polish your completed project.
I will need at least four people to sign up before I run this class.
I am initialing offering this class on Sunday's starting 1/31/16 @ 9am – 5pm.   If this does not work I'll see what else can be arrange but I will need your feedback.
Email me @ tacachance@comcast.net or call @ 978-297-7102 to register or for more information.
Artist enamel pieces trim w/22k gold to choose from: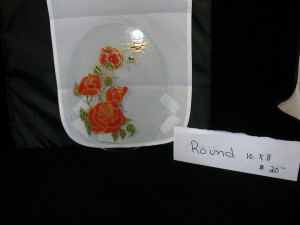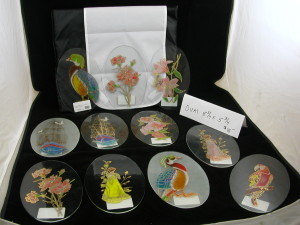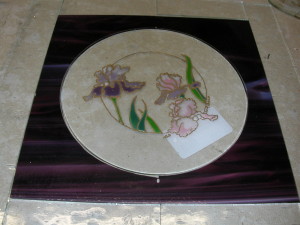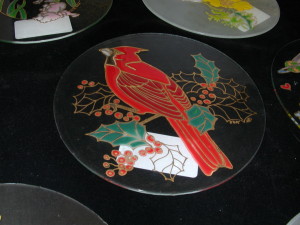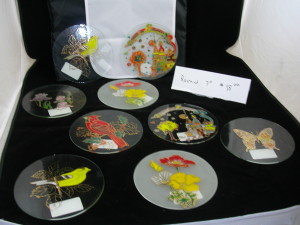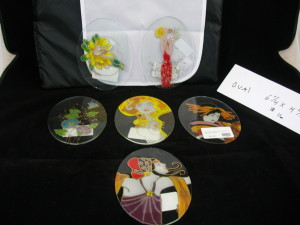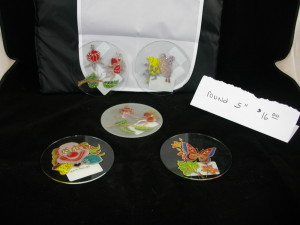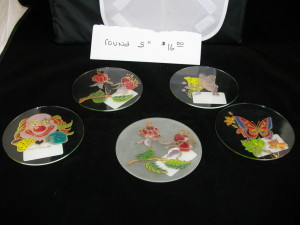 Enamel pieces with the stained glass cut but not foiled or solder yet.
Completed pieces with different styles of framing done.