Hi Everyone,
Please note that Toy Town Stained Glass will be closed on Wednesday November 27th and on Thanksgiving Thursday November 28th.   Both Mark and I wish you all a Happy Thanksgiving.
Classes being offer in November and December 2019: We are offering each class twice a week.   I need to get at least 3 people interested in the class on that night otherwise I will not run them.
I know several people have asked about fusing classes.   This class is 3 weeks.     If I receive enough responses from this email I will run another fusing class.   Classes will take place on Sundays from Nov 10 – 24th from 1:30pm – 4:30pm OR Thursday nights starting November 7 – 21 from 6pm – 9pm. Cost for this class = $249.00 (there is price limits on the glass but you can pay extra for more expensive glass.   All glass up to $13.50 a sq ft can be used.)
Starting ON NOVEMBER 7 or November 10th which we will spend time learning to cut glass using a glass cutter, strip cutter and straight edge, picking out your mold, getting your mold ready for the kiln, cutting your glass for the mold using a single layer piece of glass and putting your piece in the kiln.
November 14th or 17th you will make 2 – 4 coasters and learn a two layer. You will need to bring the design you want to do but don't make it too difficult.
November 21st or 24th you will make a panel 6 x 8 using all scrap glass, stringers and frit.   Some have made Frozen snowman, flower, trees, candles, a wood scene et
some ideas for the coasters you will make                                  single layer plates or dishes & coasters
Examples for the panel piece
Vitrigraph: offer on Saturday November 9 from 9:30am – 12:30/1pm OR Tuesday November 12th from 6pm – 9/9:30pm. Pulling your own stringers and making a plate, or bowl or small platter with scrap glass stringers and the vitrigraph stringers.   This should be a fun night for all. All materials, glass and kiln time included in the piece.
Cost:$70.00 this includes twice in the kiln, materials and all glass.
Making your own fused Christmas Ornaments class:   offer on Tuesday November 19th   from 6pm – 9pm &/0r Saturday Nov 23rd from 9:30am – 12:30pm. And will be offer on Saturday December 14th from 9:30am – 12:30pm &/or Tuesday December 17th from 6pm – 9PM.
3" circle will be precut for you. You will use scrap glass, frit and strings to make your own design and create an ornament.   Make 3 -4 Cost $65.00 Includes all materials, glass and kiln time. Bring some easy designs to create.
Introduction to Texture molds:
You will be using frit to make your piece.   All materials, frit, glass and kiln time is included for this project.   Cost will be $55.00   Offer on November Tuesday the 26th from 6pm-9pm and/or Saturday November 30th from 9:30am – 12:30pm
You will pick from a welcome sign, pumpkins or let it snow (I have 4 each of them) and then I have only one peacock. Size is either 6.5 x 8 or 7 x 7. You will learn how to apply and decorate these texture molds. The more detail you want the longer it will take.   If you don't finish you are able to come back during studio time and finish but you will have to pay for the studio time on that day. This piece will be fused and come out flat.   We will show you several ways to display your piece.
welcome sign                                                                                          let it snow
pumpkin                                                                                          pumpkin slump for sushi dish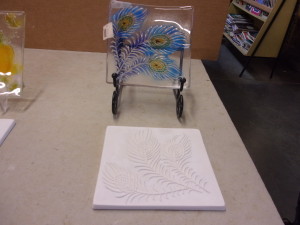 peacock
Serving platter molds: Because of the size and details on these pieces this will take two classes on Tuesday nights December 3 & 10 from 6pm – 9pm and/or one class on Saturdays December 7th from 9:30am – 2:30pm
Using fine frit to make your piece: We have snowman, pumpkins, and pansy to create.
This is done with one time in the kiln:   It's like coloring with frit glass. This will make a nice serving platter for the holidays.   Cost will be $75.00   this class will be 4 – 5 hours.
pumpkins
snowman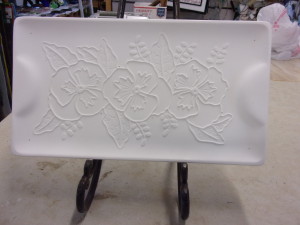 pansy (no example available)
Please let me know if you want to join any of these classes as soon as possible.   Hope to see several of you in these classes.     Thank you